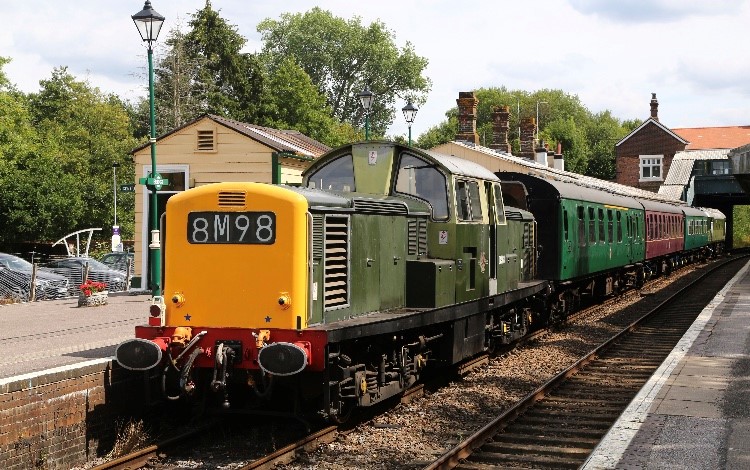 Our starter package includes theory and practical driving of diesel locomotive CLASS 17 'CLAYTON' DIESEL ELECTRIC LOCOMOTIVE D8568 . The course will be on a D8568 without rolling stock and consists tuition and 2 hours on the footplate. During the time on the footplate, 2 participants will take it in turns to drive the locomotive for a total distance of approximately 15 miles. Participants are also provided with drinks and a meal, and a few souvenirs of their participation.
Please note that our experiences are suitable for those aged 18 and above.
Dates of operation 2019
Monday 14th October
The Price D8568 £325.00 per person - Book Now to avoid disappointment
D85668
Sold from Polmadie depot during the late Summer of 1972, D8568 went to Hemelite of Harpenden, a cement company on the former branch line between Harpenden and Hemel Hempstead. It was purchased because the company's own shunting locomotives had limited haulage capacity. A visit to Polmadie secured the locomotive along with a small fitted van loaded with spare brake equipment, electrical equipment and a 450hp Paxman power unit. Arrangements were made to work D8568 South, arriving under its own power on the 11th September 1972 and in doing so became the first 'privately owned' ex-main line diesel loco to break the 'no private diesels BR ban'. This claim to fame is often quoted as going to Warship D821 Greyhound, although the difference between the two was D8568 was going for industrial use where as D821 was going for preservation.
On the 12th of September D8568 was trialled using six mineral wagons as a train and worked up and down the branch to the Hemel Hempstead factory. The loco was affectionately known as 'Gavin' after the owners son, and the locomotive enabled more wagons to be carried, resulting in less rail journeys and more savings for the company. D8568 remained in use at Hemel Hempstead until the higher costs of using rail traction forced the company to turn to the roads. So D8568 and two smaller shunters were put up for sale with the North Yorkshire Moors Railway taking the two shunters. Ironically D8568 would end up here in preservation later too!
For more details about D8568 Click here
Booking information
Participants must be aged 18 and above