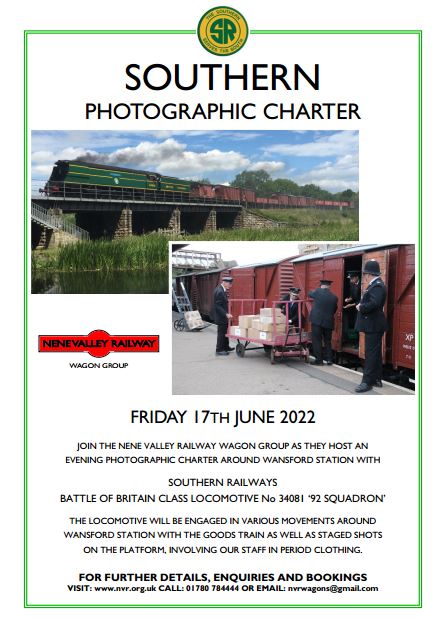 The Package
You will arrive at the Nene Valley Railway Wansford Station at 6pm on Friday 17th June and participate in a short welcome and briefing regarding the event.
Once the briefing is done and dusted the practical fun begins and you will be escorted to the platform where Southern Region Battle of Britain Class Locomotive No 34081 '92 Squadron' will be waiting for you. The first photo opportunity will see the locomotive facing west making several runs into Platform 2 from beyond the river bridge. There will be time to get shots from both the platform area and the riverbank, or even the field beyond. The next opportunity will see our staff in period costume loading and unloading vans of the goods train with the locomotive still at the west end of the train in Platform 2. There will then be a short break for buffet refreshment which is included whilst the operating staff turn the locomotive and set up for the next opportunity. This next movement will see 92 Squadron make several runs through the station from west to east via Platform 3. Once again there will be opportunities to capture the action from either the platform or the riverside. Having completed these run pasts the locomotive will run round and shunt the wagons back into their siding, whilst also bringing the coaching stock back into the platform. You are welcome to stay and experience these shunts and then join the locomotive on shed for any final shots before the event is concluded at approximately 9pm.
This course is limited to a maximum of 40 people, so early booking is advised.
The Costs
The whole package is priced at £50.00 per person. This includes light refreshment.
Considerations
On the grounds of health and safety we unfortunately cannot accept participants under the age of 18 years. Sturdy footwear is advised such as shoes or boots, as well as waterproof clothing if the weather is inclement. The environment of a heritage railway can be a dirty place and so consideration should be given to clothing worn by participants as we will accept no liability for the damage to your best suit.
And Finally
Our mission is to ensure that you enjoy the experience and get the most out of it. You will be coached through everything you do and never be left to fend for yourself.
If you have any questions or queries either prior to booking, after booking, or on the day then don't hesitate to ask.
For more info please email – nvrwagons@gmail.com
Paul Foxwell Express Freight Fund Click here to donate
Our current main project, "Express Freight", aims to restore most of the railway's extensive collection of 1950's box vans, which ran at faster speeds and were often hauled by glamorous passenger locomotives as well as mixed-traffic and freight designs. The NVR is the only heritage railway in the UK where a realistically long block train of these vans can be recreated, as over twenty of these vehicles are based at our railway