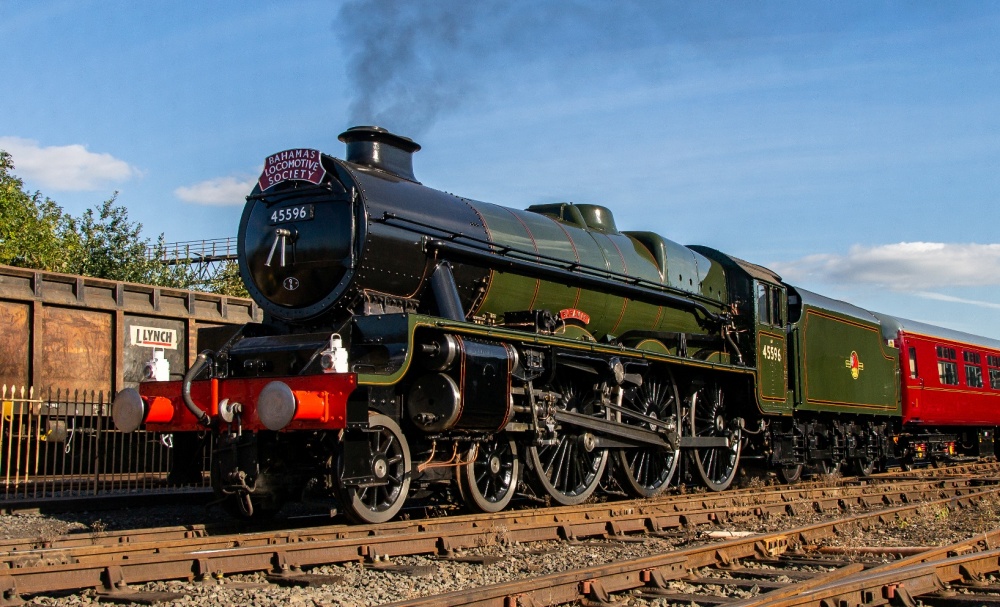 The 'Jubilee' class of locomotive was designed by Sir William Stanier on his arrival at the London Midland and Scottish Railway. During his review of locomotive requirements he found that the company required a locomotive capable of hauling fast secondary express passenger services between major cities but where loading gauge restrictions may exclude his newly built 4-6-2 Pacific Princess Royal class engines. This class of engine was derived from an older class of engine known as the Patriot Class which had been designed by his predecessor, Henry Fowler.
As no. 5596, 'Bahamas' was built in the Scottish area of the LMS by the North British Locomotive Company and entered service with the London Midland & Scottish Railway in January 1935. The engine was initially allocated to Crewe before moving on to various sheds around the English area of the LMS including Carlisle Kingmoor, Grimethorpe and Millhouses in Sheffield. Finally, no.45596 (as it had become by then under BR) was allocated to Stockport Edgeley in 1962. The engine remained here for four years and after hauling a number of enthusiast's specials was withdrawn from traffic.
Take to the regulator, drive and fire Jubilee No 45996 Bahamas
This exciting package includes theory and practical driving of 45996 in which you will receive an hour's tuition and an hour on the footplate of 45996 without rolling stock. During the hour on the footplate, two of you will take it in turns to drive and fire the locomotive for a total distance of approximately 15 miles. You'll enjoy drinks, and a ligtht meal
Price
£495.00 Per person
19th, 20th, 26th & 27th August
Please note due to on going Covid risk, participants will need to bring their own overalls and rigger gloves, sensible shoes or boots or clothing that is of cotton material, please note clothing will get dirty.
TICKETS NOW ON SALE