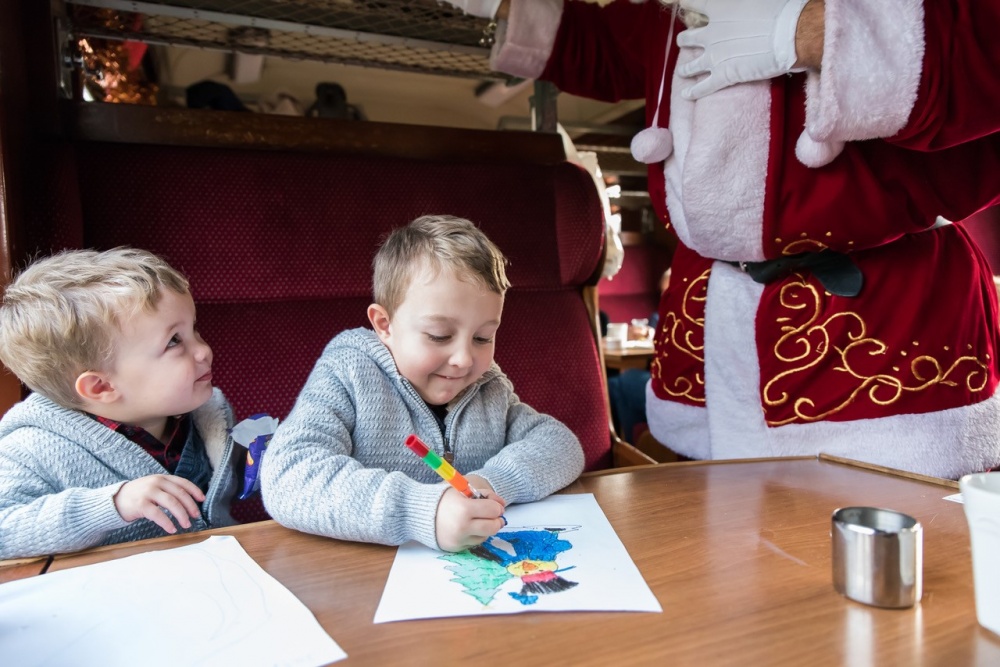 OUR SAT NAV POSTCODE TO VISIT US ON THE DAY IS PE8 6LR - DONT FORGET TO PROGRAMME IT IN AND ALLOW YOURSELF JOURNEY TIME
Due to popular demand these events are fully ticketed with allocated seating /carriages and pre-booking is essential.
PLEASE NOTE - THAT IF YOU HAVE TICKETS BOOKED - WE ARE UNABLE TO MAKE ANY ALTERATIONS TO YOUR BOOKING WHERE YOUR DATE OF TRAVEL IS WITHIN 14 DAYS OR YOUR TICKETS HAVE BEEN PRINTED AND SENT.
Your Santa Steam experience starts with a welcome from our station staff and badge team - entertainment is provided at busy weekends. This is followed by an exciting visit to Santa's log cabin where each child receives a special present from the old gentleman himself. Following a short wait families then join our steam hauled, decorated train for a fun-filled ride to Peterborough and return.
Please arrive 45 - 60 minutes before your departure time to alllow for parking, booking in and seeing Santa in his Grotto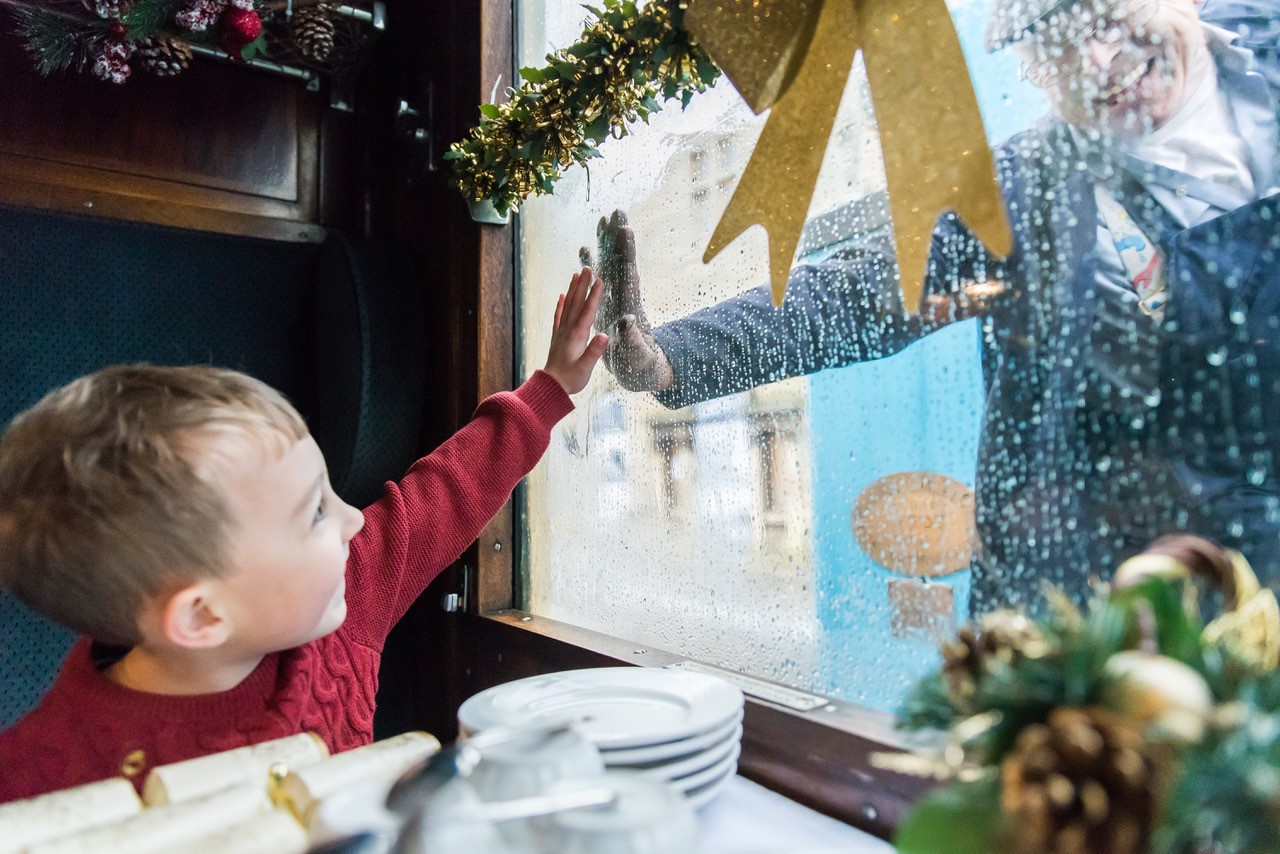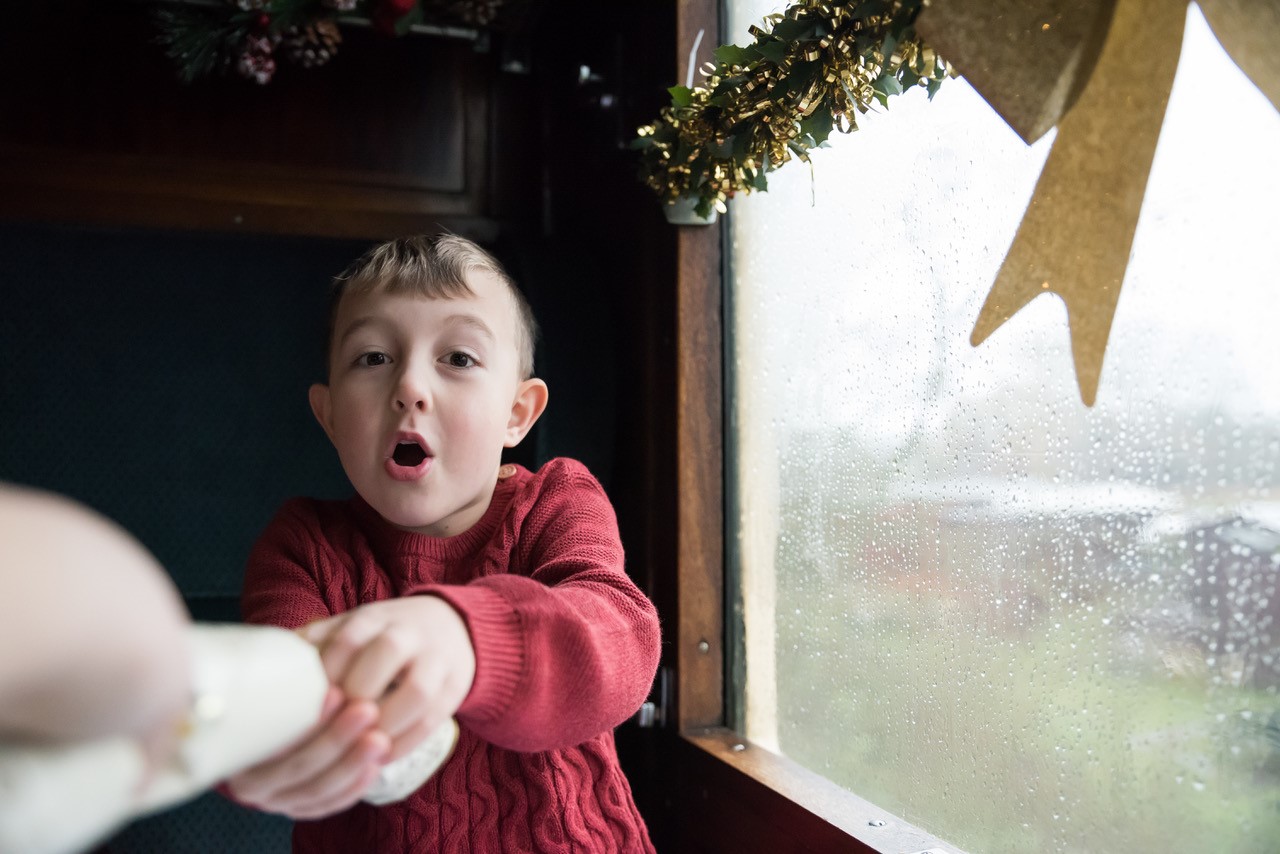 During the journey our train staff serve the children with a drink and chocolates. Parents and other adults are not forgotten with a mince pie and either an alcoholic miniature, wine or a hot drink. Santa walks through the train to see the children, providing an opportunity to take photographs and to wish everyone the compliments of the season
Choose how you would like to travel on the Santas with three options. Remember… No matter which service you choose, classic, first or premium
ALL children get an age appropriate present from Santa, treats and a drink
ALL adults get a choice of an Alcoholic, tea/coffee and a mince pie
Classic Santa
It's a party atmosphere within our classic class carriages. Like all visitors to Santa steam the children will have visited Santa's grotto and got their presents before everybody sits down for the exciting steam train trip. Drinks and a mince pie will be served to the adults and the children get a drink, a cracker and some sweet treats too (it's spoiling them we know but after all it is Christmas) When it seems it can't get any more exciting Santa pops by to say hello once again
First Class
Your first class seats are individually reserved with crackers on your table. In addition to the opulent surroundings of our upholstered seats with traditional luggage racks, you will enjoy 2 complimentary drinks, and a mince pie as part of your first class ticket (Children will get a drink and sweets in addition to their grotto present).
You then also have the option of purchasing additional food to enjoy in first class:
Tabled seating with the option of purchasing additional food and drink

Main Food

To contain a selection of brown and white sandwiches, mixed nibbles (sausage rolls, samosas, etc), selection of festive cakes.
Cost for this will be £28
Served on a stand at your table
Additional plates of sandwiches etc can be ordered.
Gluten Free option available
Due to the constraints of our small kitchen we are unable to cater for individual dietary needs (please call the office to discuss)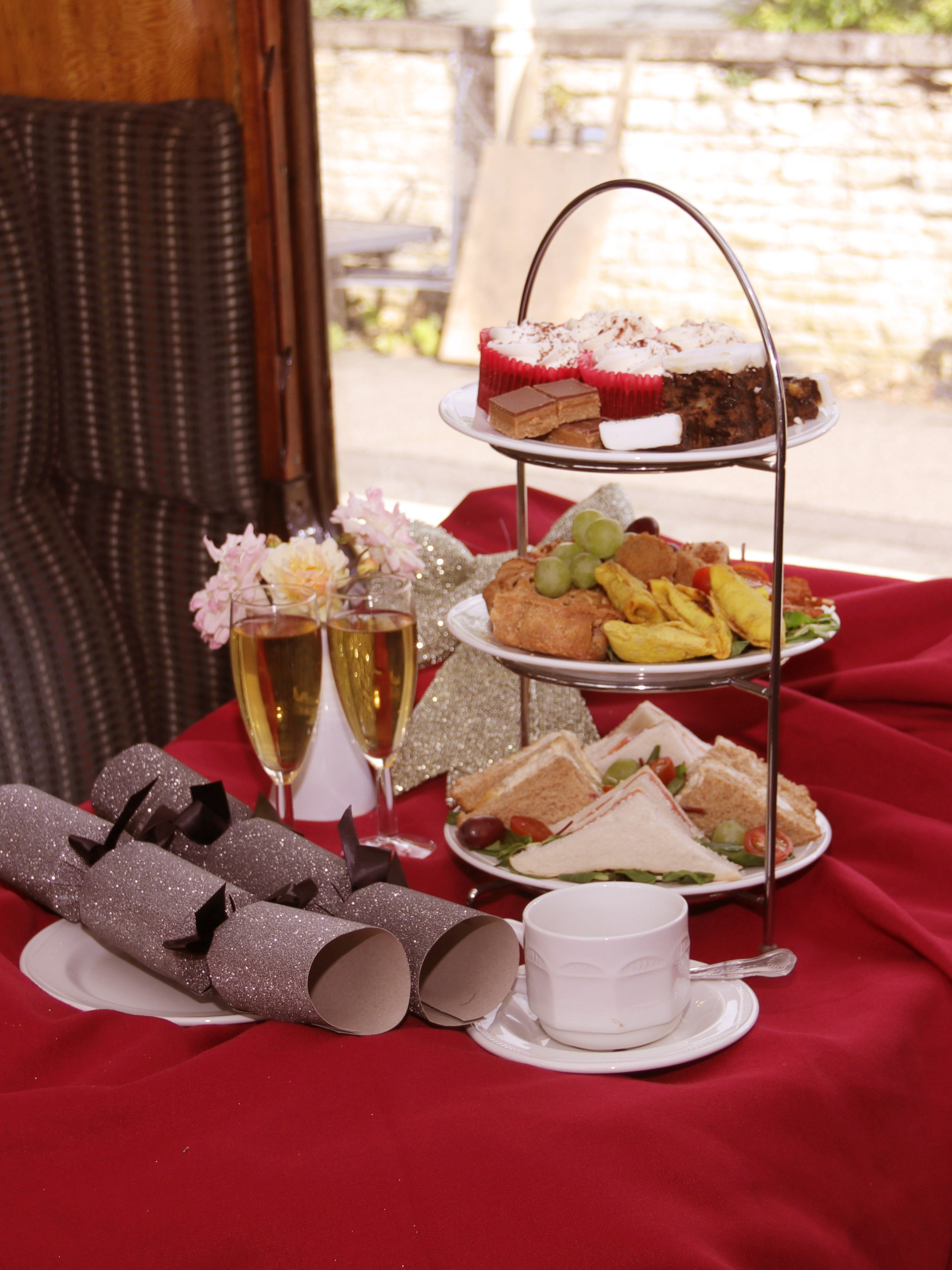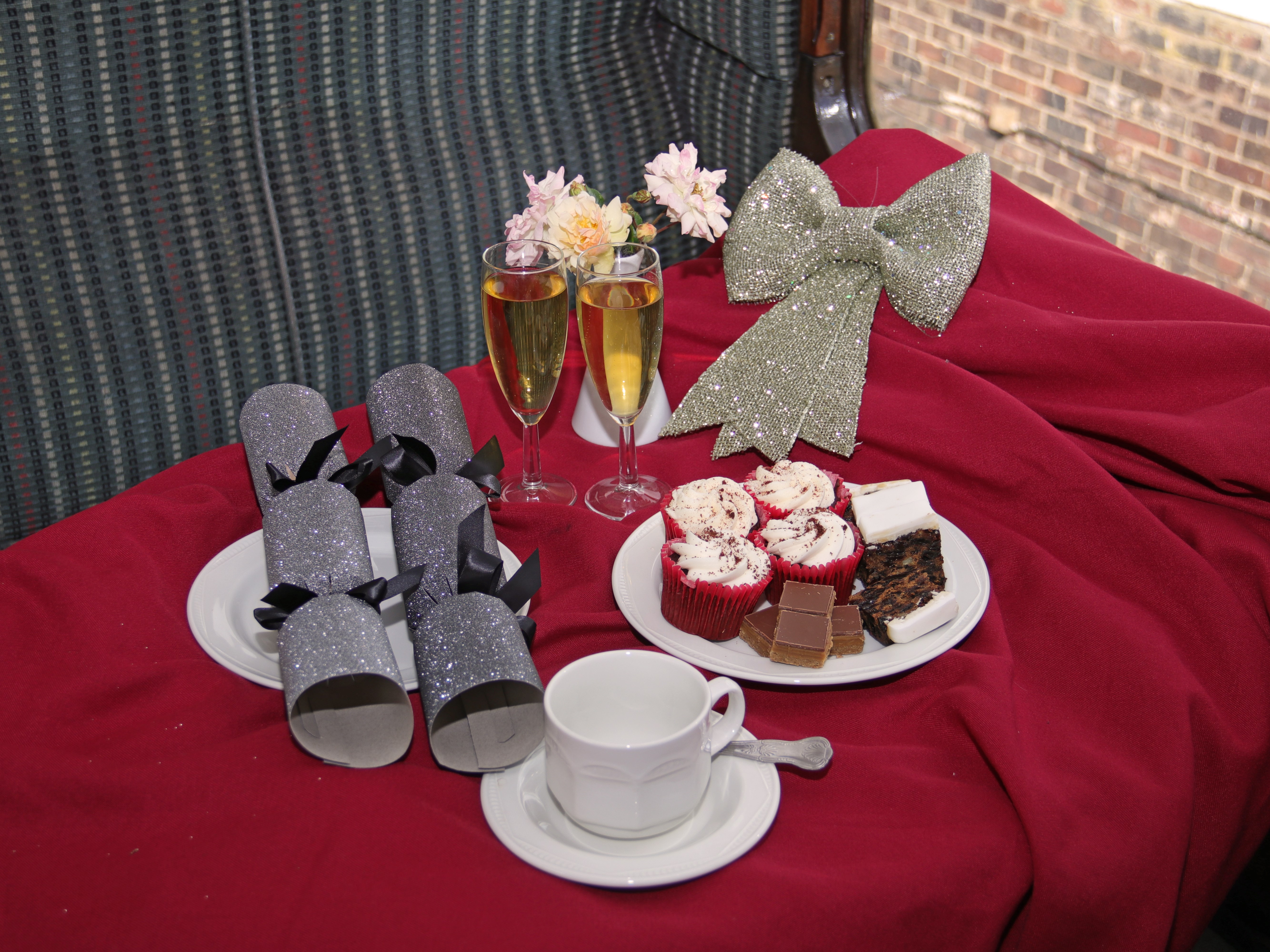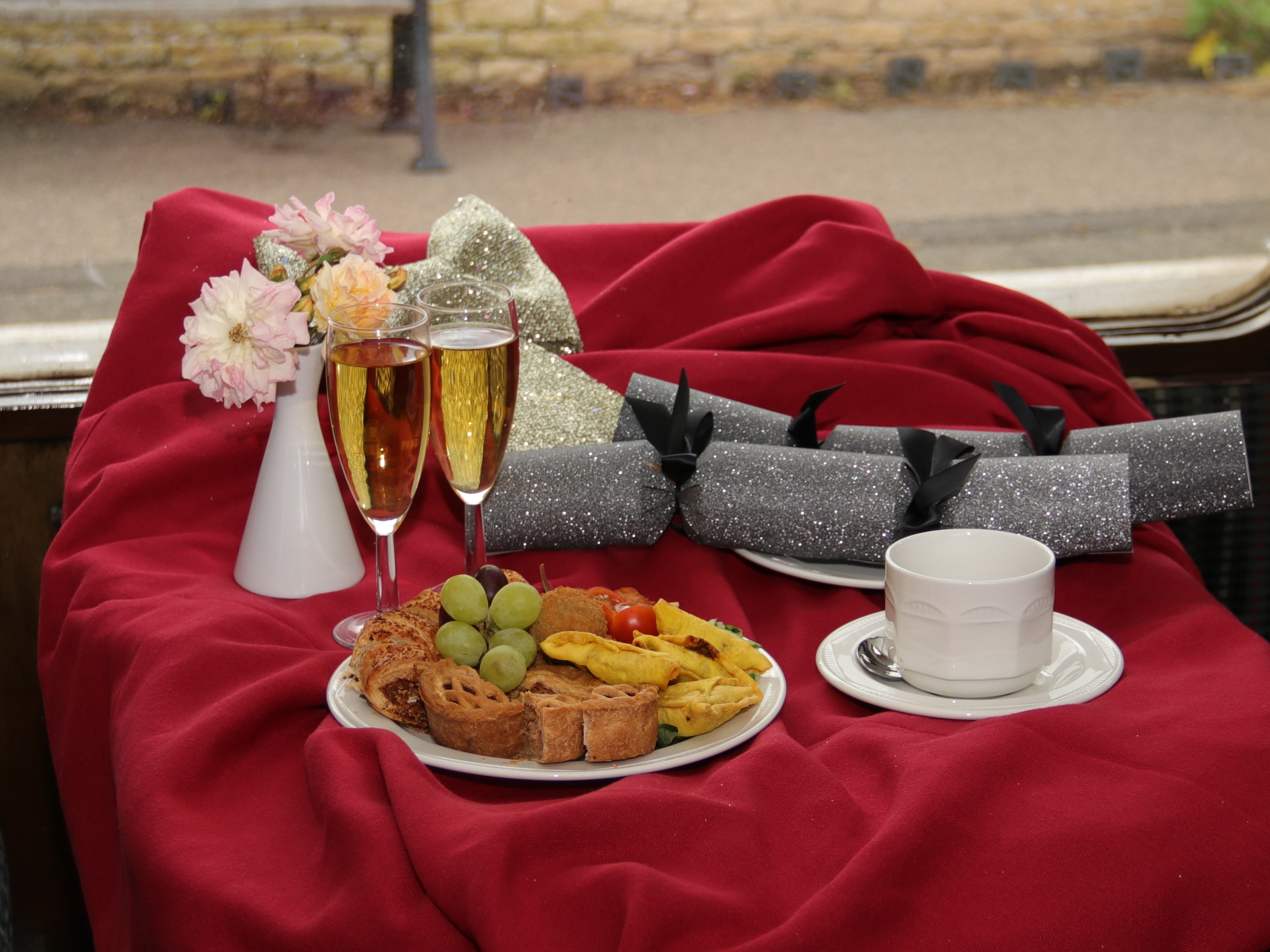 Premier 1st Class Compartments

Holds up to 6 people

Experience rail travel from a bygone age in your own private compartment. The inclusive price includes a sandwich platter, hot mince pies, hot sausage rolls and pigs in blankets- which are always a hit with the children! Unlimited hot drinks, two rounds of alcoholic and non-alcoholic beverages and fruit juice for the children are also included.
The 09:30 train includes a breakfast platter in place of the sandwiches and other hot food. Hot mince pies will still be served.

Breakfast

Will contain 6 x Bacon Rolls and 6 x Croissants with jam
Veggie option – will be 6 x Veggie Sausage Baps and the same croissants
IMPORTANT - Should you wish to book a compartment with a couple of extra guests - you must call the office to discuss options and book, (charged at First Class Prices).
Special Dietary Requirements
Please be advised that if you ring to tell us of dietary needs - due to how we order food in this must be done as follows:
Unfortunately due to limited catering facilities we are unable to accommodate individual dietry requirements.
If travelling on a weekend date - please make contact with us no later than Monday afternoon.
If travelling on a mid-week date - please make contact with us no later than Saturday afternoon - the weekend prior to your travel date.
The St Nicholas Lounge
To enjoy our premium service as a group of up to 16 people,
The spacious St Nicholas Lounge is the choice for you, with room to spread out and relax and your own personal steward.
Incorporating all the features of our Premier 1st Class service, additionally the well-stocked bar, for your exclusive use, will host a selection of complementary alcoholic and non- alcoholic beverages. To truly celebrate Champagne and cocktails are available for purchase during the trip.
Advance Booking Essential via our online booking service.
---
All our Santa Trains depart from and return to Wansford and cannot stop at any stations along the line to collect passengers.
ALL 1st Seats. Compartments and Classic Carriages will be allocated
PLEASE NOTE - THIS IS A NO DOG SERVICE - HOWEVER, SERVICE DOGS ARE PERMITTED.
Changes to bookings and seat allocations after the time of booking are subject to an administration fee of £10 per change of booking.(excluding early bookings made before new menus made available - subject to checks)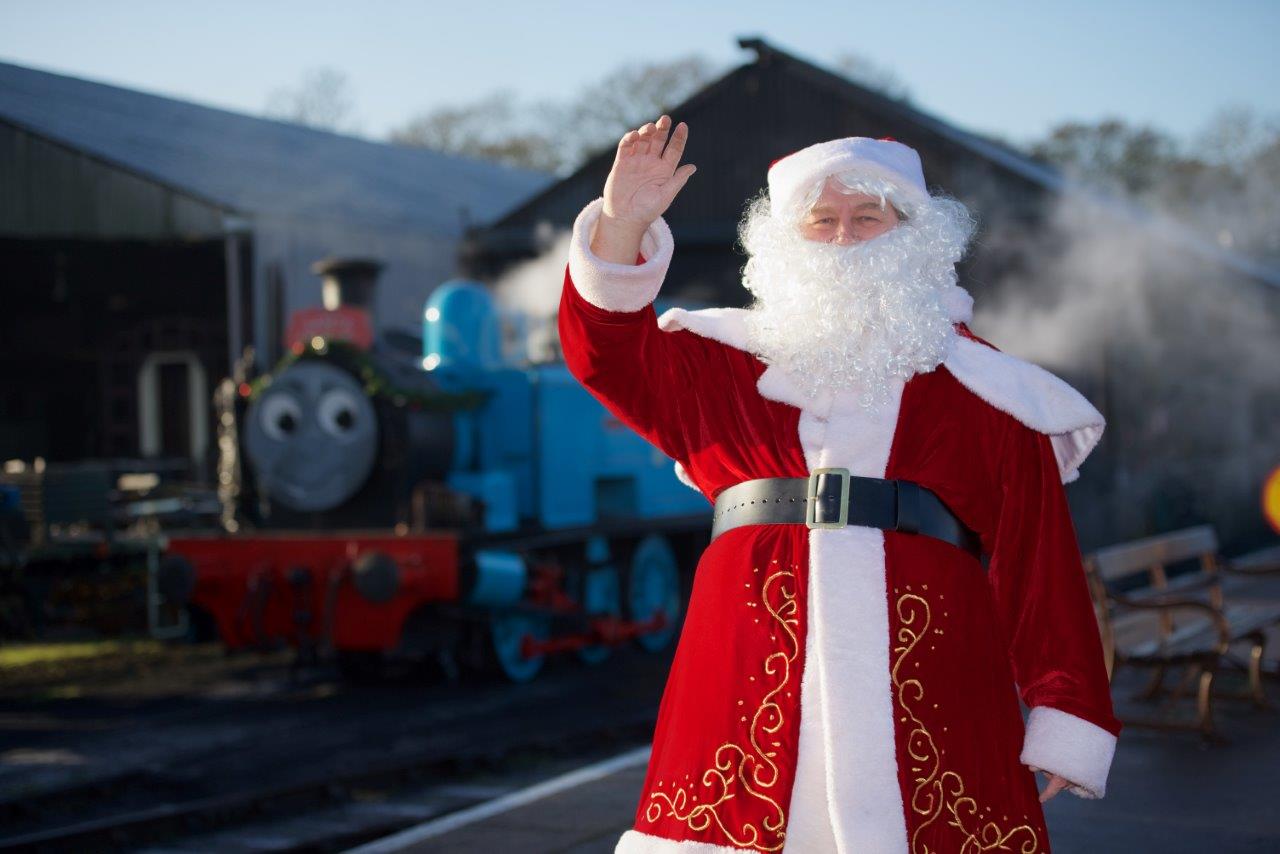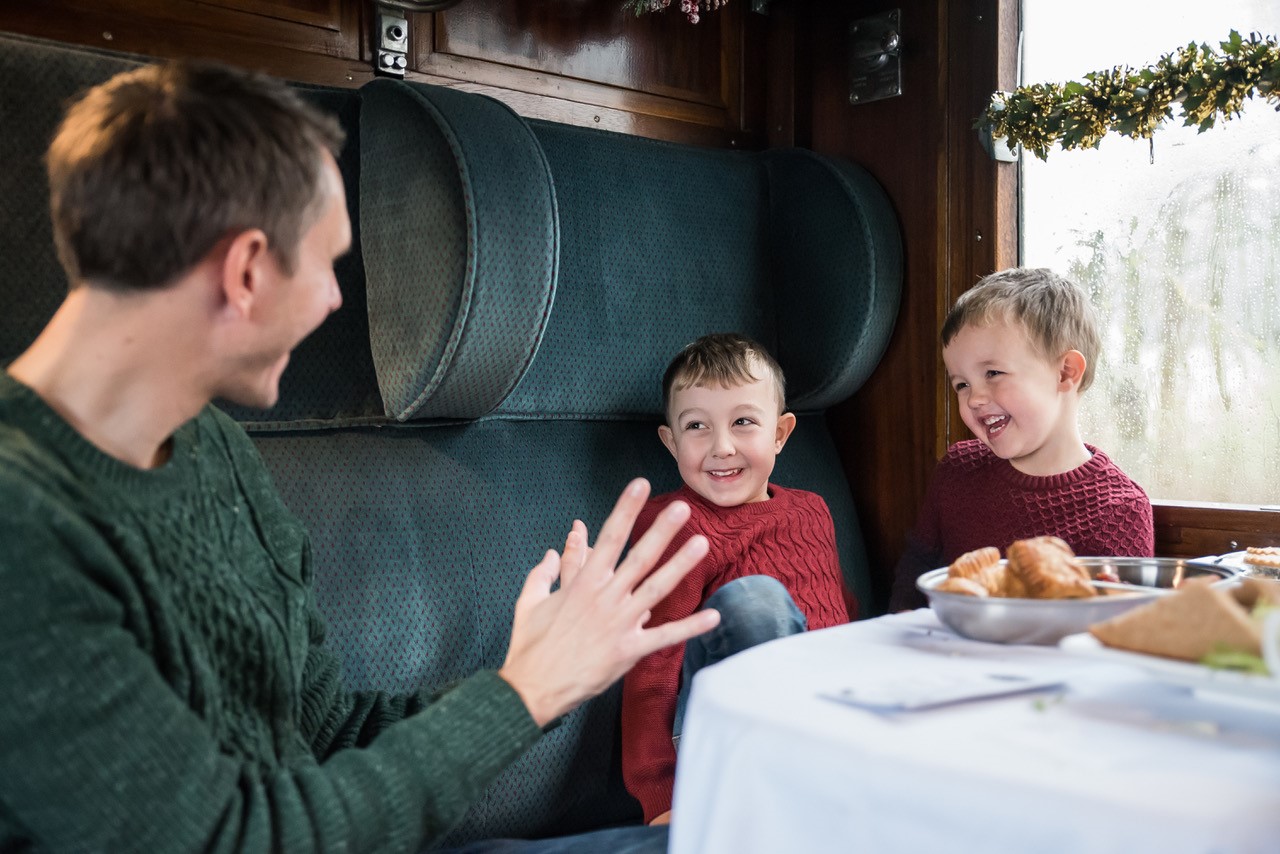 Booking information
Please note: Information on Child ages and genders is entered during checkout.
Buy tickets
Wed 18th Dec 2019 Yellow Pricing Date

09:30 Advance Booking Closed
11:00 Advance Booking Closed
12:30 Advance Booking Closed
14:00 Advance Booking Closed

Sat 21st Dec 2019 Red Pricing Date

Sun 22nd Dec 2019 Red Pricing Date

11:00 SOLD OUT

Mon 23rd Dec 2019 Red Pricing Date

Tue 24th Dec 2019 Red Pricing Date