The Miniature Railway is based at Wansford Station in the car park, the 5" Gauge railway runs along the car park and is able to provide train rides to Adults and Children alike, we will be operating Steam and Battery electric locomotives. The Miniature railway boasts two stations, Turntable, Locomotive Shed, goods sidings, Signals and everything which is Main Line in Miniature. A small charge is made for a ticket to travel on the Miniature Railway. The Miniature Railway is fully supported by donations and Ticket Sales.
Donate here to the Miniature Railway Project which includes our new Ticket Office Wagon project.
Click here to view our 2020 Review video
Follow us on Facebook Miniature Railway Facebook shop
NEW IN STOCK
Miniature Locomotive men pin badges
£3.50 if collected from Wansford or purchased from our shop at events
£5.00 including postage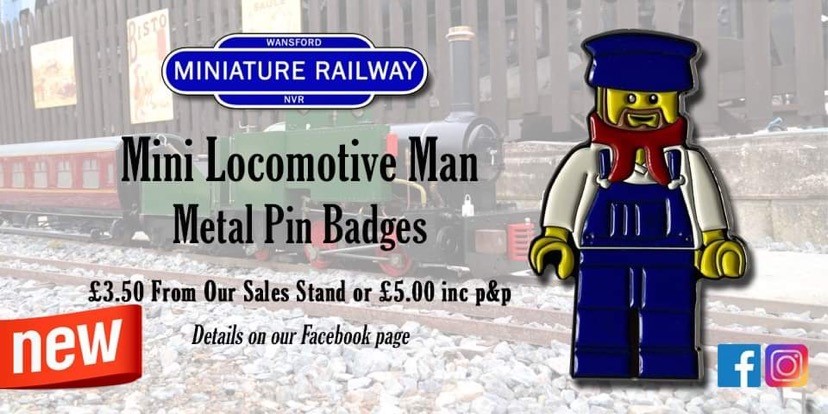 Miniature Railway and Wagon Group Fundraising Appeal
With the success of our Shed fundraising appeal, we are now looking to further extend the Miniature Railway project to include a permanent Fundraising shop and ticket office this will also feature the NVR Wagon Group fundraising shop, this will be housed in a original British Railway wagon van body, we have been gifted a wagon body which is need of full restoration and collecting from its site in Northamptonshire. We urgently need to raise £1500 to move the wagon from its location to Wansford, and undertake a full restoration, internally the van will be completed with a small storage area, display and sales area and a shop counter to purchase items and tickets for the Miniature Railway. All donations from one penny to one pound or more make a big difference to the Miniature Railway.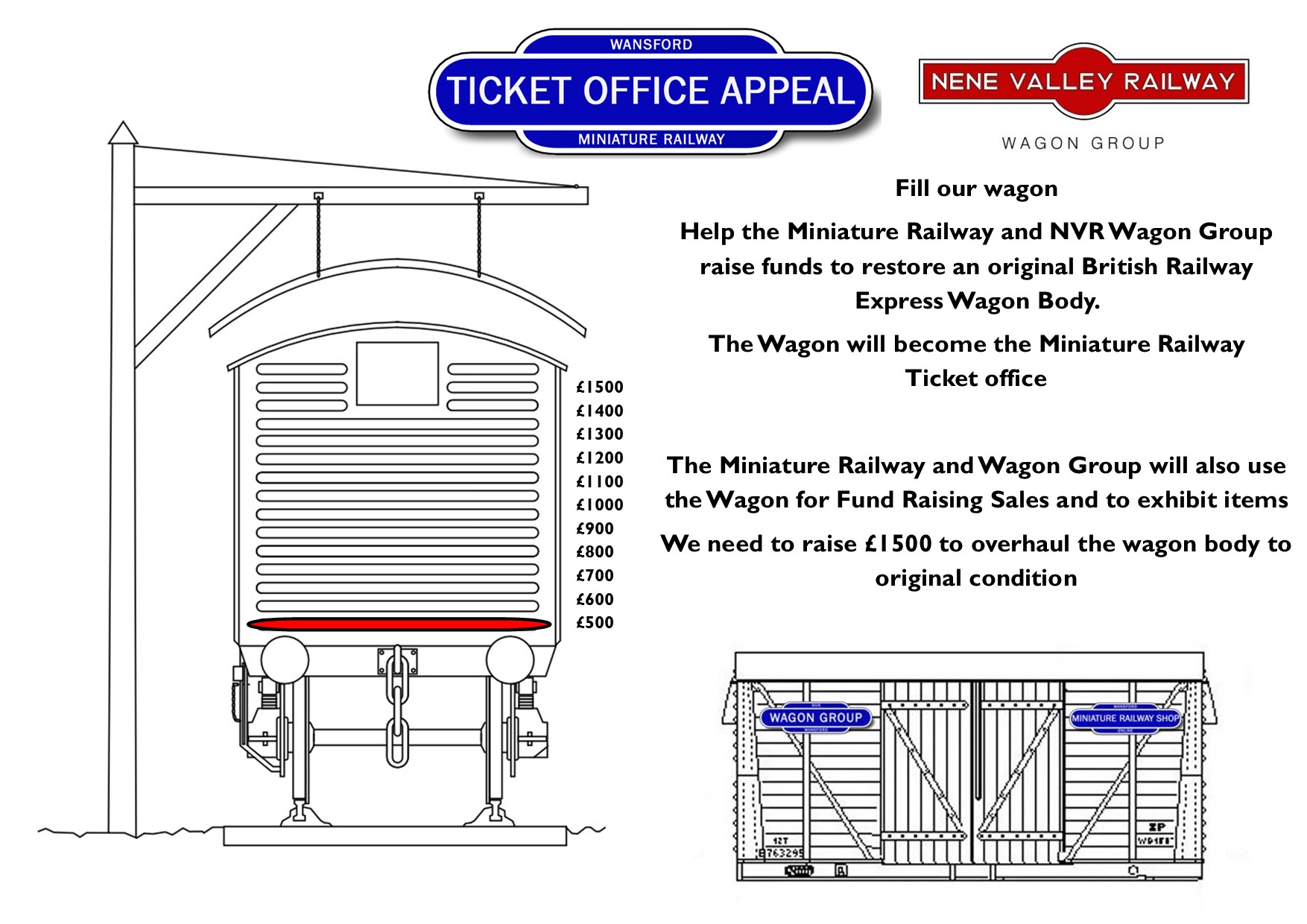 Miniature Railway Facebook Shop
We are pleased to announce our online shop Facebook page, all items for sale are in support of the Miniature Railway project, take a look and like our new page and see our items for sale, more items will be added. Click here to visit the shop

Station named
We are pleased to announce the naming of the shed end station as NEW ENGLAND, the naming of our west end station near our locomotive sheds takes the name from the former New England (35A) steam shed in Peterborough that closed to Steam in January 1965. The NVR locomotive crews adopted 35A as the NVR shed code a few years ago so its was fitting that we remember NEW ENGLAND on the Miniature Railway.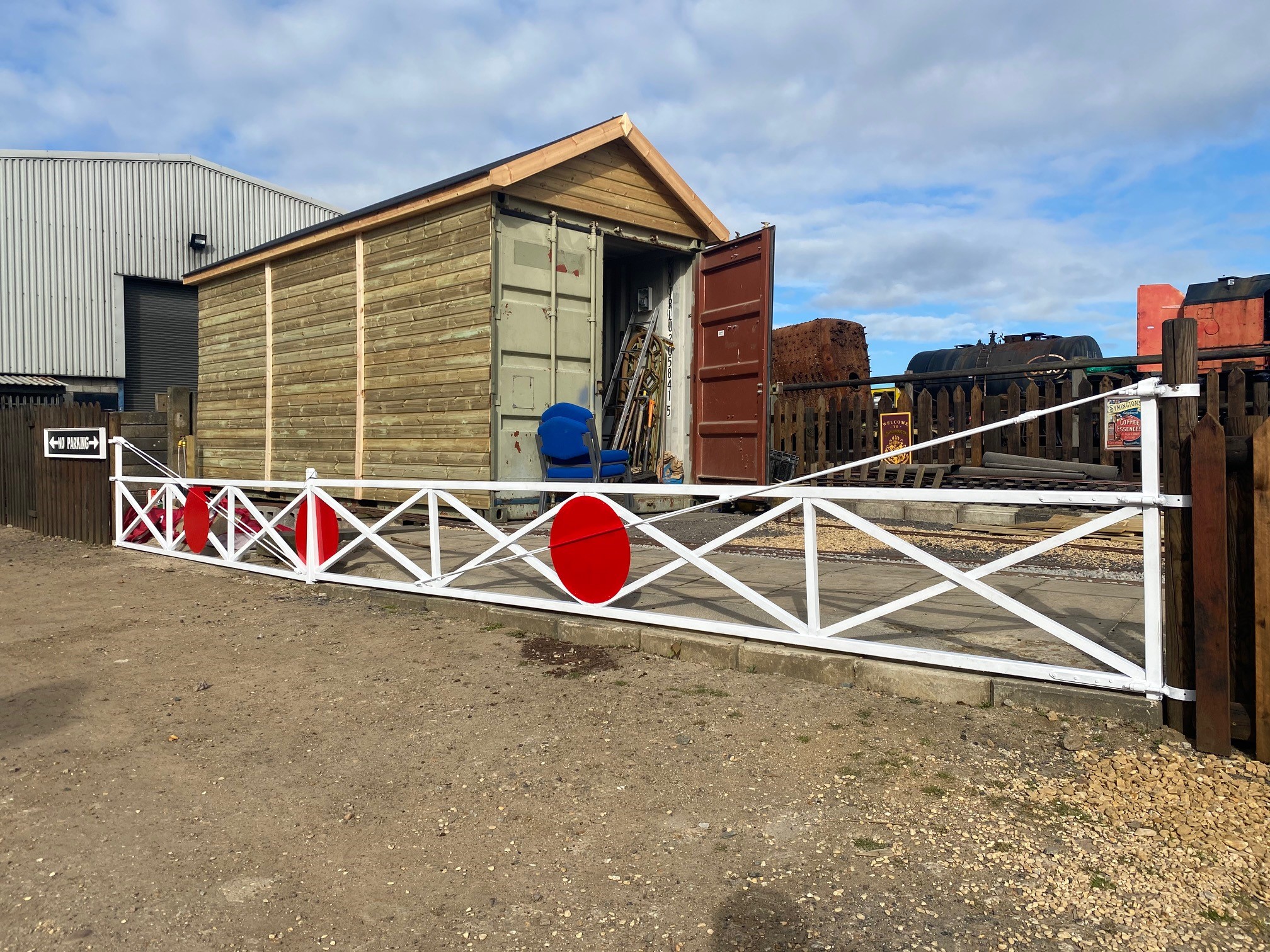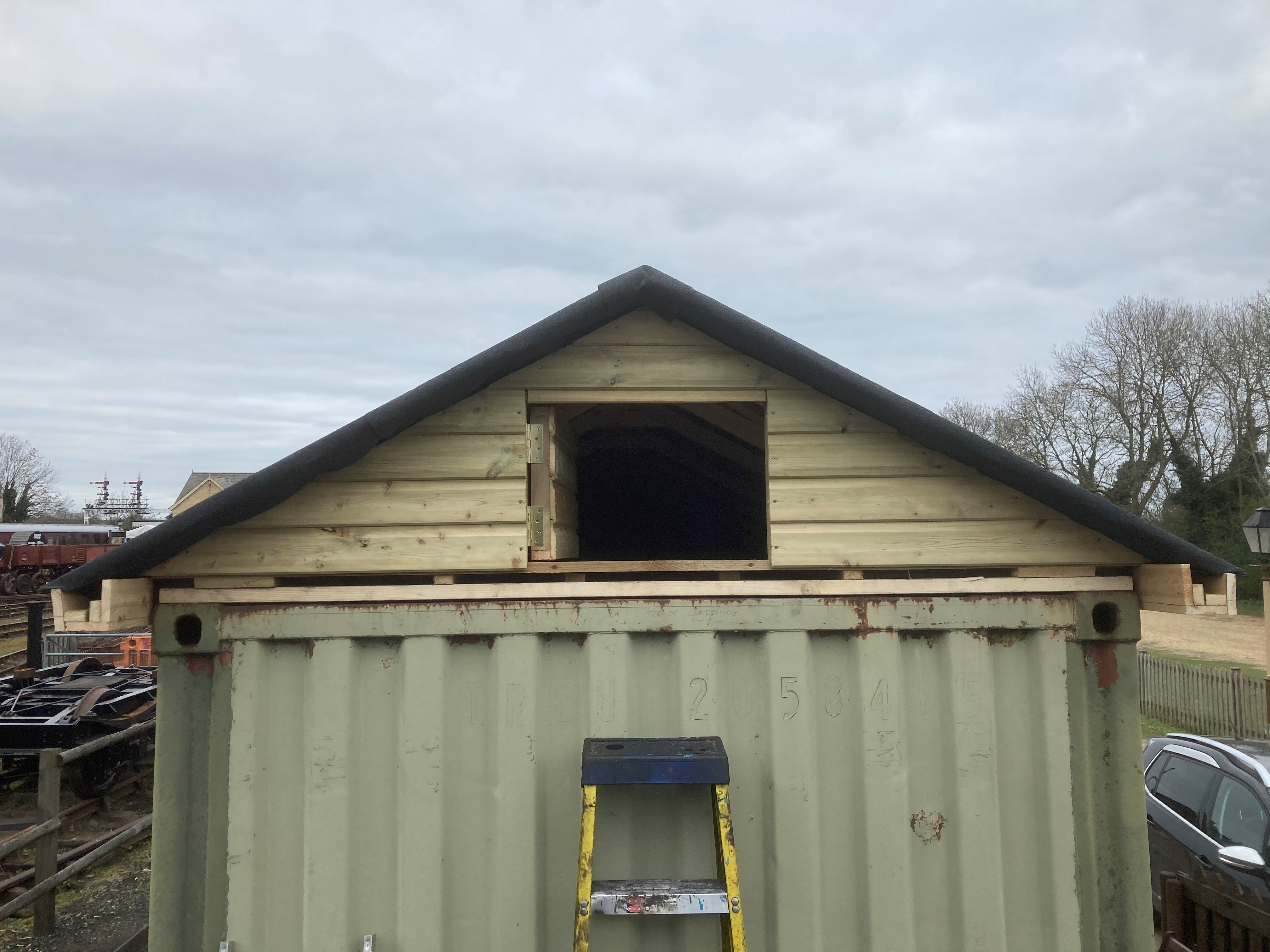 Meet our engines, we have several locomotives that will be hauling trains on the Miniature Railway.
Narrow Gauge Design 0-4-2 Steam Locomotive "Holly"

Built in Peterborough in 2001, this has recently been purchased by one of our members and will now be seen running on the miniature railway, the locomotive can run either with its tender or just as a side tank locomotive.
Austerity War Department 2-10-0 No 90776 The Royal Anglian Regiment

Purchased by her owner in 2019 and named The Royal Anglian Regiment, the locomotive has been overhauled by her owner will be running on the miniature railway, the locomotive lives on the Gipping Valley Railway
GWR Prairie No 4588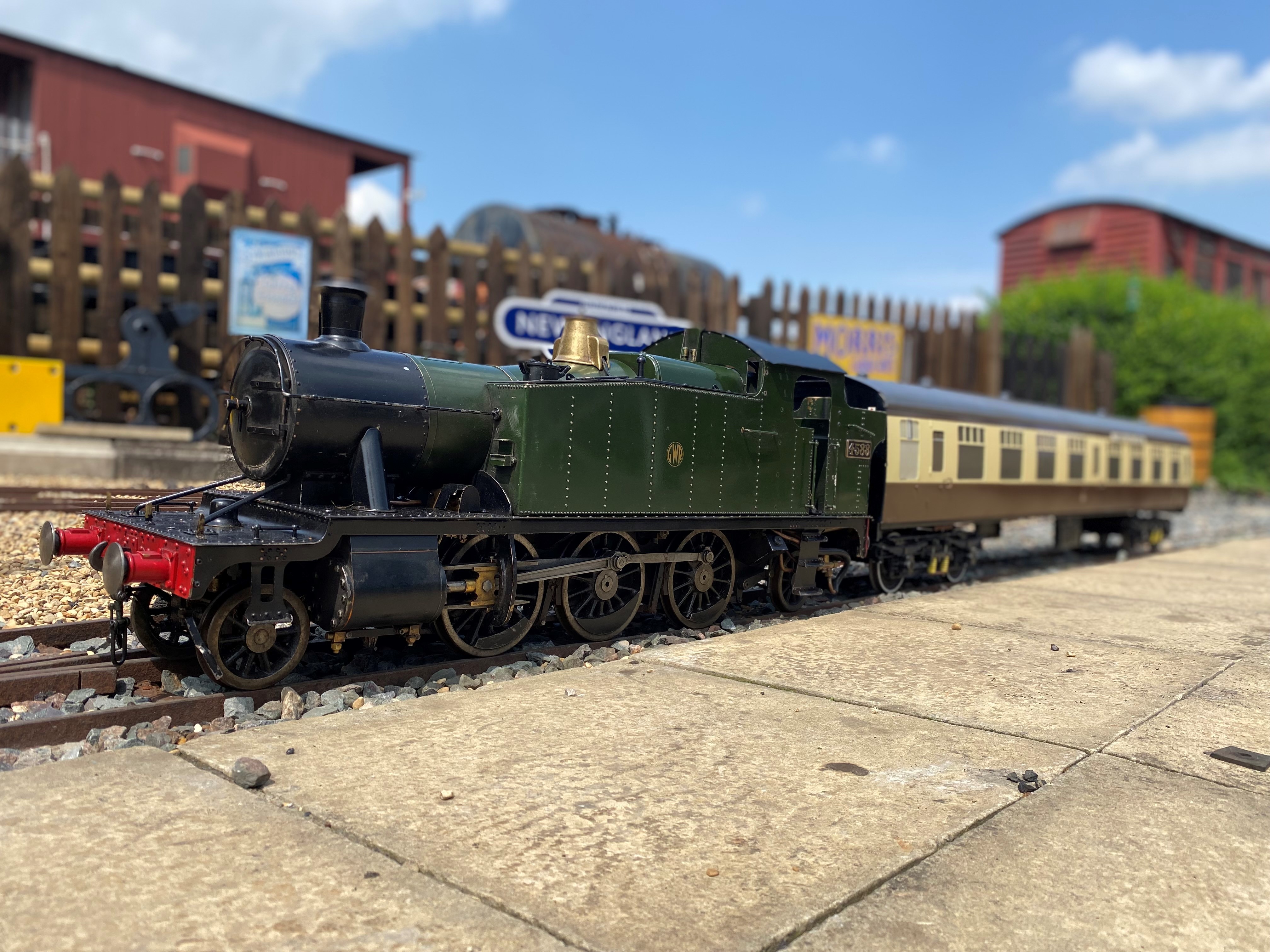 Recently purcahsed by one of our members and will see regular service on the Miniature Railway
BR Class 08 No 08679

Based on an 08 Shunter that was based at North Gawber Colliery in South Yorkshire until scrapped, the locomotive was seen at the colliery by the models owners who has lovingly restored the model to replicate the real 08679
Class 14 No D9520 " Stan Collett"
This locomotive is owned by the miniature railway purchased by donations, the locomotive is restored to the same livery of the full size D9520 that is based here on the NVR. This locomotive will see regular use on the miniature railway
LNER B1 "Roedeer"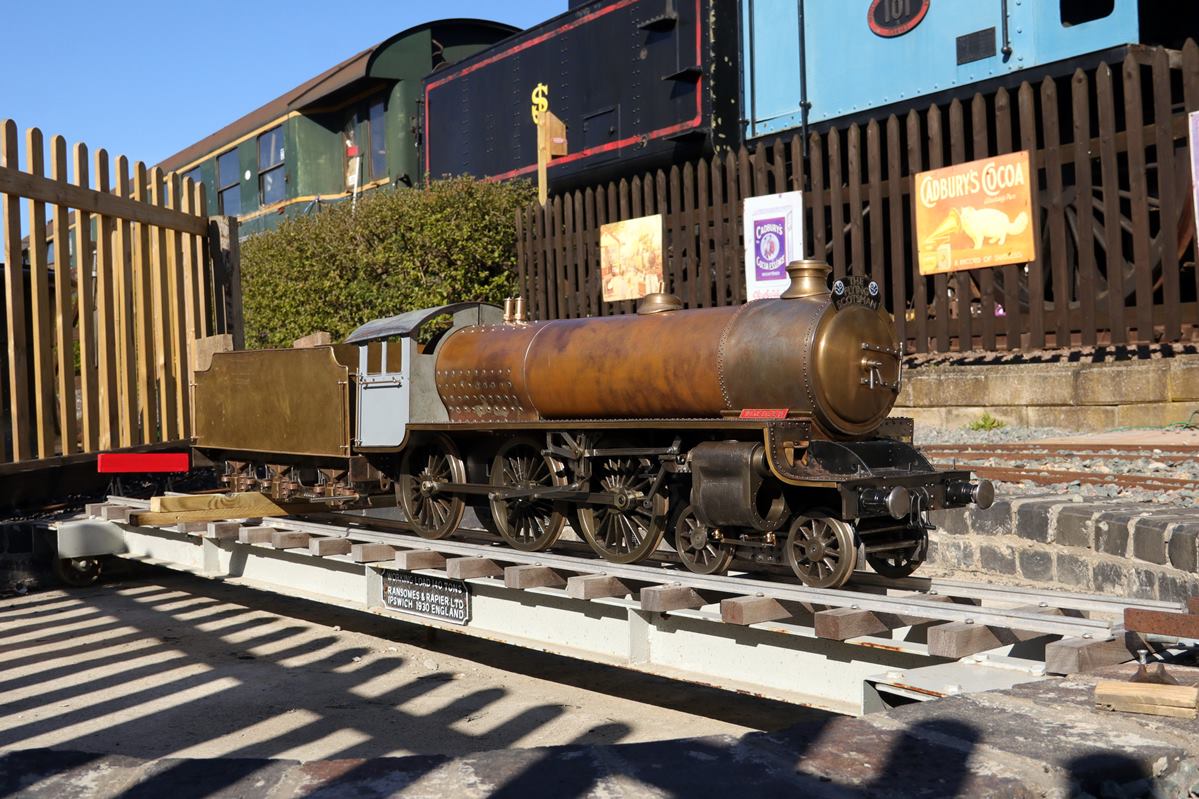 This locomotive is currently being built by one of our members and when complete will be operational on the miniature railway.
Rolling Stock
We have two British Railways designed Mk1 sit astride coaches for our passenger services and several wagons
Our new fund rasing lapel badges can also be purchased via the donations link
Click here to visit our Photo Gallery to see all the photographs of our project.