An exciting development has been taking shape at the Nene Valley Railway, being built beside Overton (for Ferry Meadows) Station is what's known as the Night Mail Museum. The museums aim is to tell the story of delivering mail by rail.
Our museum will act as an attraction of the railway to teach how mail was sorted throughout the night onboard the Travelling Post Office. This will provide an insight in to how mail was delivered from as far back as the 19th century all the way up to 2004. Including TPO coaches to explore, exhibitions to peruse and activities to keep the kids inspired. Phase 1 has seen a huge development of the Overton site from an overgrown plot of land to its current status as a work in progress yard with customer interest. The Night Mail project has already acquired many postal vehcles including mail vans, lorries and bikes, a collection of Mail by Rail artefacts as well as a fleet of former Travelling Post Office carriages. Among our fleet includes our flagship exhibit TPO coach M30272M, which is the last surviving coach from the rake of which was involved in the famous Great Train Robbery of 1963 which is due to be cosmetically restored to its former glory.
Looking ahead to phase 2 we plan to deliver more onsite facilities and points of interest including retail, a small carriage shed and expanding demonstration events and experiences at the Nene Valley Railway. The site is open to the public free of charge to explore but any donations would be gratefully received.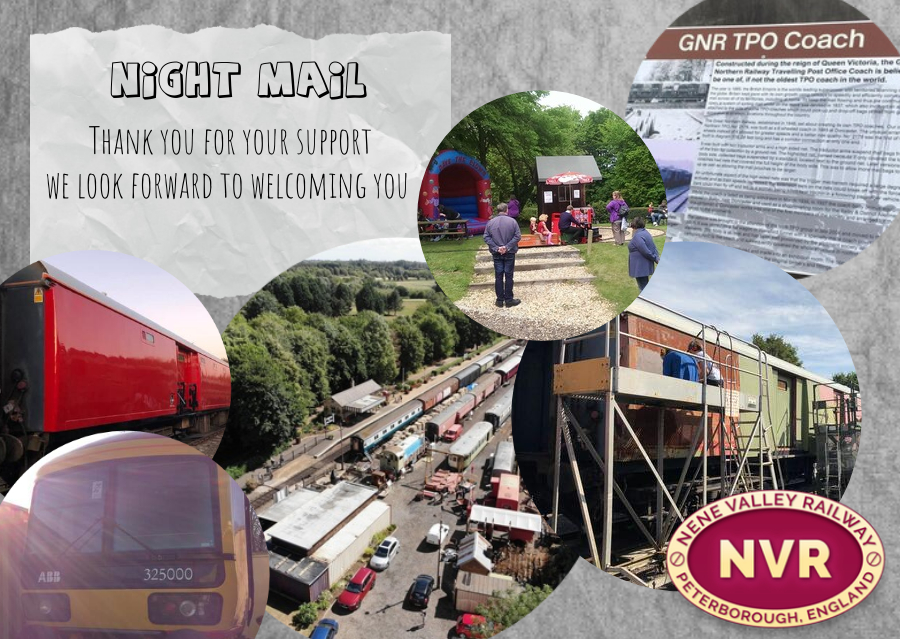 All monies rasied from the Nene Valley Railway's Second Hand Bookshop supports our Night Mail project. So if you have any Train themed books you wish to donate or you are just looking for a good read pop along and suppport us. NVR Second Hand Book Shop
For more details about Night Mail, the progress on the coaches and vehicles and the museum itself, please visit our Facebook page Overton Station/Night Mail