Thomas is currently having some engineering work on his boiler. Our Engineering team are working hard on him to make him ready as soon as possible.

Help Thomas get better by sending him your personalised Get Well Drawing or Card. He loves receiving emails and post from his pals. nvrthomas@nvr.org.uk

For advance notice of tickets going on sale for Thomas's 2023 Days Out please send us an email customercontact@nvr.org.uk
Click to download our first Thomas at Nene Valley Railway Colour Me In & Word Search
The 0-6-0T engine No. 1800 was built by Hudswell Clarke in 1947 at about the time when Rev.W Awdry wrote his second book in which Thomas appeared. The little blue engine spent its entire working life at the British Sugar Corporation Peterborough factory pushing wagons of sugar beet up an incline until the day came when a diesel engine replaced the steam power of Thomas. The Peterborough Railway Society purchased this delightful little engine on 9th September 1973 and he was moved to the Nene Valley Railway, where he has since delighted his friends and children of all ages.
Thomas below being named by Rev.W Awdry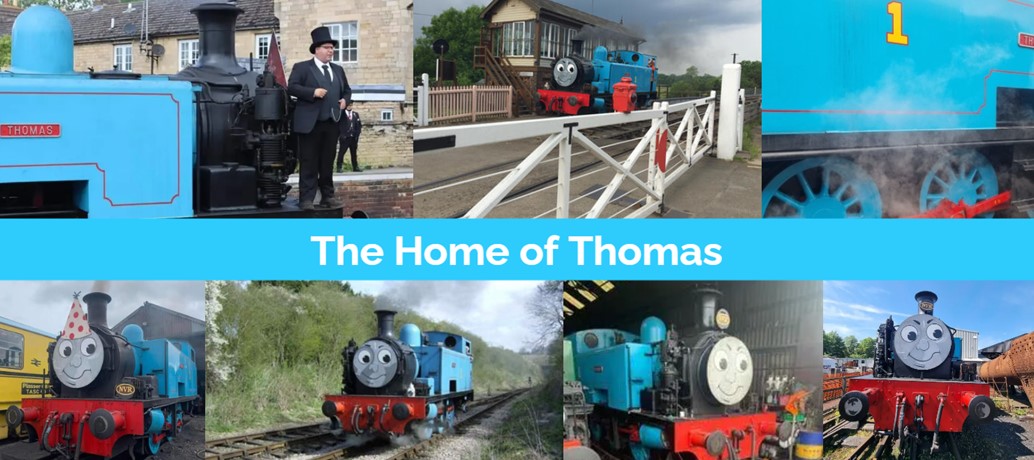 Wansford station is the location of our gift shop, we always stock a large selection of Thomas gifts and pocket money toys for the Thomas fan
Our Turntable Cafe at Wansford is also the place to stop off for Breakfast, Lunch, Snacks and ice creams
Thomas lives at Wansford and can been seen most of time in the yard when not in steam, on some occasions he is moved in the shed to let the engineers work on him.
Keep an eye on our web page for more Thomas events in 2023