Yarwell Station is the westernmost Station on the Nene Valley Railway and sits at the edge of the picturesque Northamptonshire countryside adjacent to a tranquil lake.
From here it is easy to take a pleasant walk into the nearby villages of Yarwell and Nassington.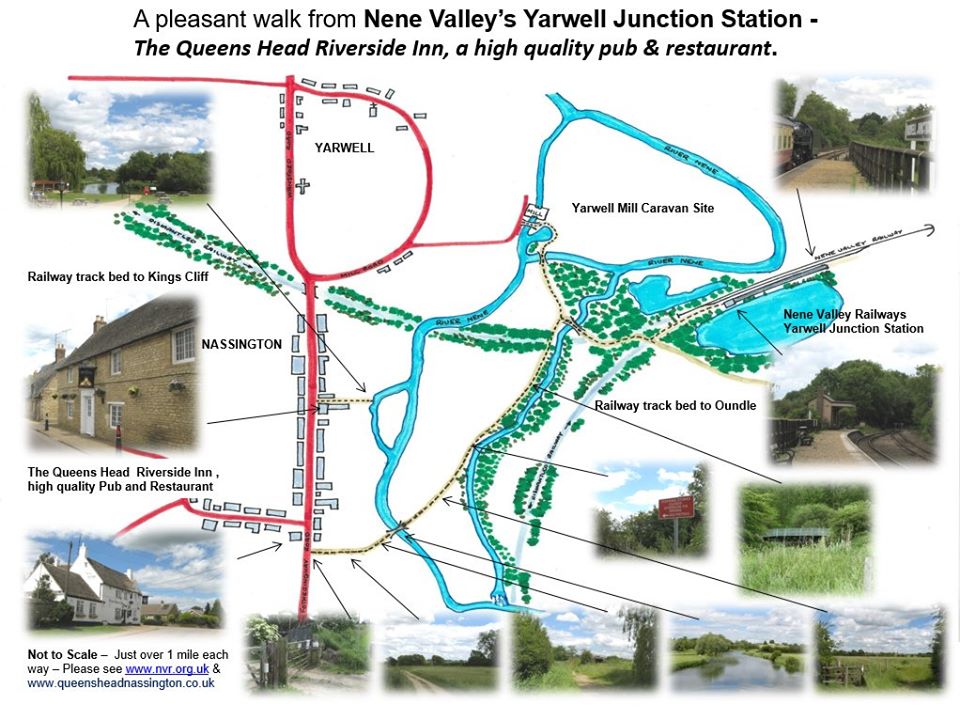 Imagery courtesy of Brian Pearce and Matryn Hanks (map due to be updated)
Both villages are approximately 25 minutes from Yarwell Station. In Nassington you can stop for refreshments at the Black Horse or Queens Head public houses and in Yarwell, the Angel. On some summer Sundays, there are also cakes and tea on sale in Yarwell Village Hall.
The historic Prebendal Manor is also in Nassington, but it would be wise to check on opening times before visiting.
For those who have cycled, it is also possible to go further afield to other villages such as Apethorpe or Fotheringhay.
Walking or cycling through the countryside also gives you the opportunity to see examples of the abundant wildlife from the red kite to the kingfisher and fallow deer. There is also evidence of badgers.
For those remaining on the train, there is the opportunity at Yarwell to alight, stretch legs and watch the locomotive run round the train, ready to haul it on it's journey back through Wansford, and the Nene Park on it's way to Peterborough. There is also time to look at the interpretation boards on the station that show examples of the wildlife and a places of interest in the area.
A map of the area can be downloaded from the link below
File Upload: YarwellMap.pdf