Support the Railway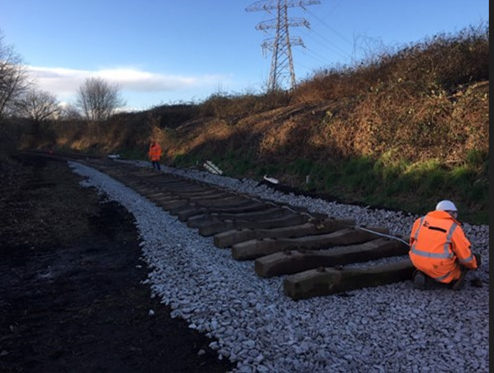 Our Fletton Branch connects our railway with the East Coast Mainline at Fletton Junction, providing easy access for guest locomotives, charter trains and maintenance machines amongst others to visit NVR. These arrivals are always a boon attracting visitors and generating substantial revenue that helps to keep our railway running, making the Fletton Branch perhaps the most important 1.5 miles of our track.
The exceptionally high temperatures experienced in the summer have had a detrimental affect effect on many of the 2,300 wooden sleepers on the Fletton Branch Line, and as a result, the line has been closed to traffic. This is a bitter blow to the hardworking staff and volunteers of the NVR because until repairs are made the railway will not be able to accept any movements to or from the mainline.
We have recently replaced around 400 wooden sleepers on the Fletton Branch, although the more sleepers we can replace now, the more resilient the line will be for the long-term. Depending on the number of sleepers replaced and the availability of volunteers to undertake the work, we estimate the cost of repairs will be between £35,000 and £200,000. Repairs to this section of the track and the main section are on-going - repairs can be the sleepers or the track themselves and the components used to make them secure, and whilst we are blessed with many donated items we do also have to purchase in items which are increasingly becoming more expensive.
Due to reduced running during the Covid pandemic, the railway has limited available funds to begin repairs with the help of our volunteer workforce. Please can you help us keep the Railways Infrastructure in good working condition?
Donate cash to the NVR General Donation. Any amount, big or small, will really help our cause. Each new sleeper will cost around £100. Please consider sponsoring a sleeper!
Thank you for your support!
If you would prefer to donate directly to our bank rather than the donation buttons - please use these details;
Account Name : Nene Valley Railway Ltd
Account Number: 97253308
Sort Code: 54-21-38
Reference: Sponsor A Sleeper or General Donation
If you wish to Gift Aid your donation - please download this form and return to our office at Wansford - clearly mark when your donation was made - Downloadable Form
Nene Valley Railway
Old Great North Road
Stibbington
PE8 6LR
Everyone at NVR thanks you for your kindness and generosity.
To donate via our online payment system please ticket your donation amount below, add to your basket and follow the payment instructions.